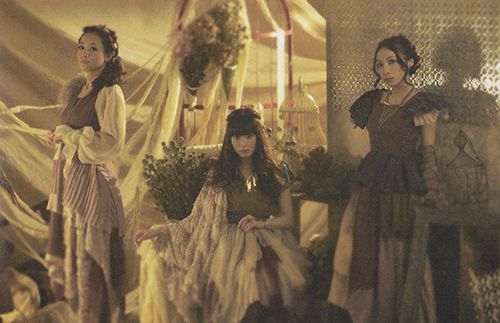 I think this blog is starting to look like a Kalafina image gallery
UPDATE 18/7: The single is now available for pre-order on a number of music sites.
CDJapan: Regular Edition   Anime Edition
Amazon Japan: Regular Edition  Anime Edition
YesAsia: Regular Edition  Anime Edition
HMV Japan: Regular Edition  Anime Edition
I'm personally holding out on deciding which edition to get  until I see a few more details, but I'm sure I'll be buying it.
—————————-
From: Canta-per-me.net, unofficial Kalafina Facebook page
Kalafina's official blog and SME Japan's website have announced that Kalafina's tie-in single for the Kara no Kyoukai: Mirai Fukuin (Future Gospel) animated film, Alleluia, will be released on 2nd October. The single comes in two versions: Regular and Limited (EDIT: Also referred to as the Anime Edition): . The Limited/Anime Edition  will come with a Kara no Kyoukai special illustration booklet and a Kara no Kyoukai illustrated baseball cap. No other details regarding the contents of each edition are available yet.
Canta-per-me.net has a translation of a blog entry by Kalafina's producer and Kara no Kyoukai's OST composer Yuki Kajiura regarding Alleluia. Here's an excerpt:
…As I listened to the dialogue/lines from the last scene [of the early footage of Mirai Fukuin], the first lines for the lyrics just popped out. And as I thought, "Ahh… I want to start the song with these words", Keiko-chan just suddenly started singing in my head. I thought, "Oh no!", scrambled to grab the score sheet (^_^:), and wrote the song whilst chasing after the melody flowing in my head…(Click here to read the rest)
I wonder if the Keiko-chan in Kajiura's head will get songwriting credit
Oh, Kara no Kyoukai's official website now hosts short PV for Mirai Fukuin, which will premiere on 28th September. Shiki~~