My copy of After Eden still isn't here…In the meantime, I broke down and watched the Symphonia PV. I'm still trying to avoid giving in to the temptation to listen to the other songs in the album.
And then I figured, I may as well do now what I've been doing with the other Kajiura-related PVs…recap! With screencaps.
We start off with a solo by Keiko…

"There's the camera, don't look at it, don't look at it, must maintain faraway look in eyes…"
Cut to emphasise that we are indeed in a field of flowers.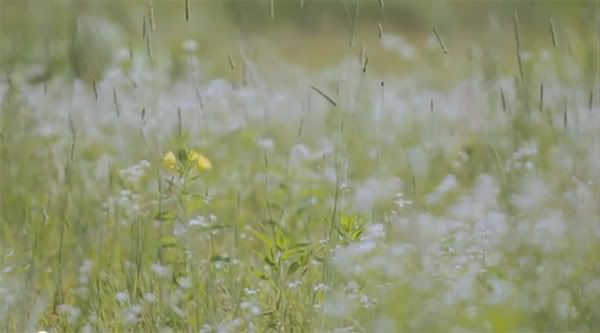 Look, flowers!
…And then we have a random white kid.

How come it's always white kids? Aren't Japanese kids cute enough for PVs?

"Is that…uplifting music? Beautiful female vocals harmonizing? But I don't see anyone else…"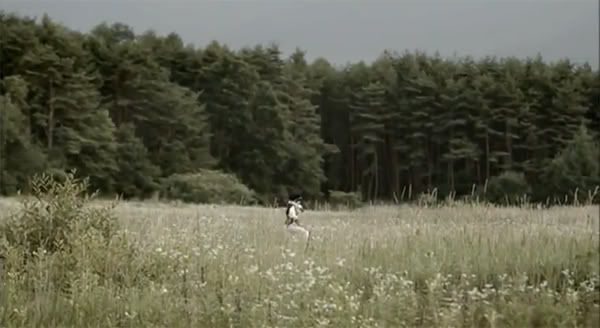 "This is really weird, I'm outta here. Might as well do some knee lifts to impress any watching girls with my athleticism."
Meanwhile, back with the ladies…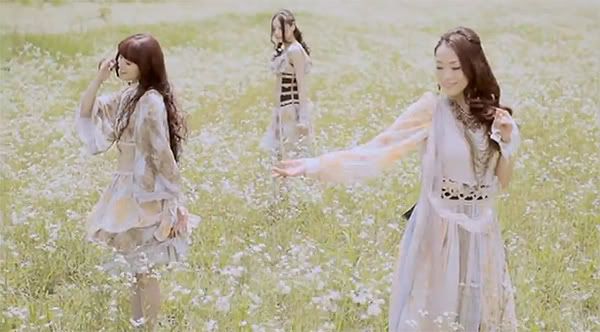 Wakana: "Check it out — right sleeve…"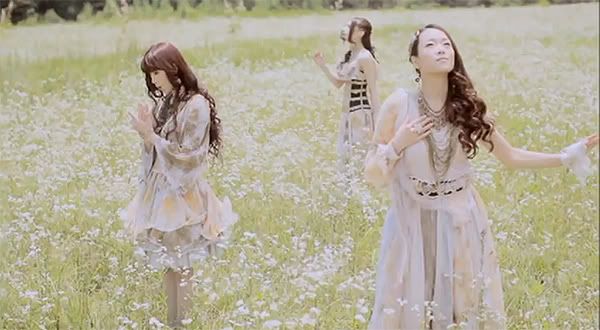 Wakana: "…but no left sleeve! Is this dress cool or what?"
Keiko: "Damn it, Wakana, this is my solo, they're supposed to watch me. Stop moving, you're distracting them."
Hikaru: "…the camera's not in the sky anymore, is it?"

"Oh, there's the camera — Guys, help! It's been so long since we had a happy PV that I can't remember how to smile while singing!"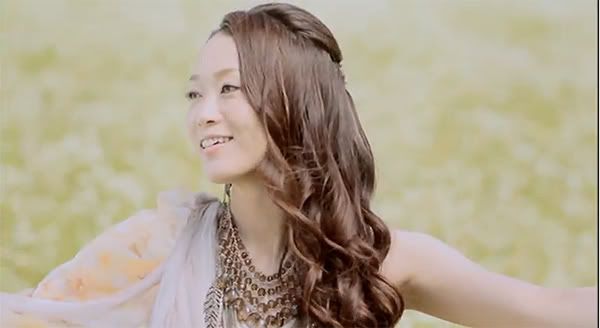 Wakana: "It's easy! Just think happy thoughts! Great white shark, hammerhead shark, cookiecutter shark, higashi no kaze ni~"

Keiko: "That's right, Hikaru. Happy thoughts. I had a solo in this song, I had a solo in this song…"
In the meantime…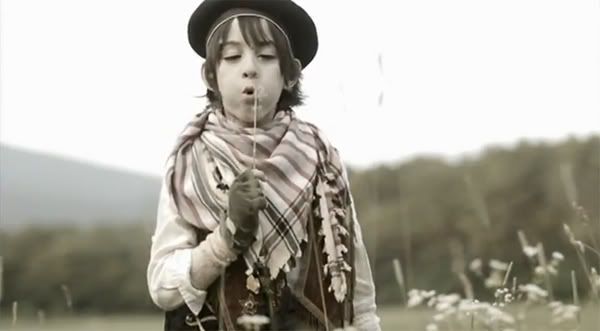 "Dandelions! Yay! The joy of blowing dandelions will surely erase my fear of this ghostly music ."
Never mind. I'd rather look at Kalafina.

Hikaru: "This is a really huge field, and I have no idea where the cameras are…"
Wakana: "Shh, we're moving into the epic chorus now!"

"I'm smiling, I'm smiling while singing, you just need a bit footage right? 'Cause this is really hard –"
But then suddenly:

"Okay, I'm sure they said we were shooting in a nice big field of flowers. This doesn't look like a field…Yeah, I'm lost."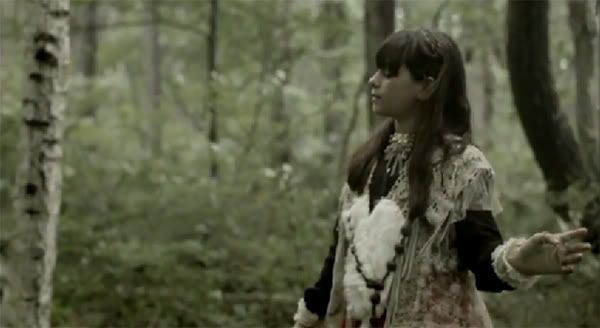 "Good thing I have survival skills. Time to go forage for something to eat…"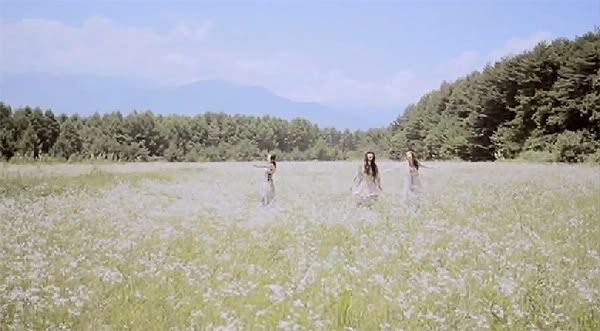 Keiko: "Hikaru, you're facing the wrong direction The camera's over here!"
Hikaru: "Huh, what…Oh! How come no one tells me these things earlier?"

"Damn it, I'm really hungry now…wait, is that…"

"…berries! Yes!"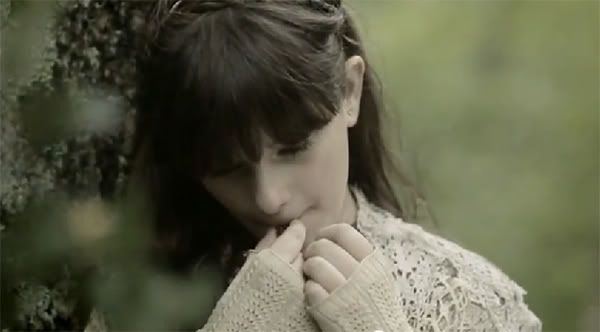 "Om nom nom."

Wakana: "So how many sleeves do you guys have?"
Keiko: "Two. Duh. Look at them billowing in the wind!"
Hikaru: "…They always give me the sleeveless outfit…"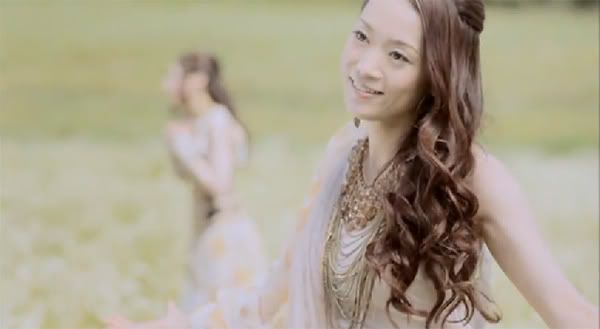 Wakana: "Oh, it's my close-up again! Mako sharks, blue sharks, sandtiger sharks…"

Keiko: "Smile, Keiko, smile…I had another solo, I had another solo, I have solos in Mune no Yukue too…"

Hikaru: "Aaah I forgot how to smile while singing again!"

"Aaargh, that's it, I'm done with this weird music coming out from nowhere, I'm ringing this bell to call the cows so we can all go home."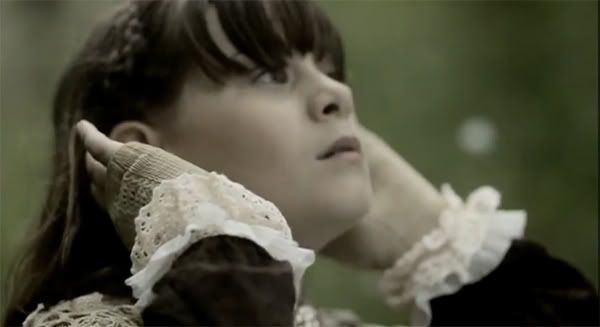 "These berries would taste really good with a soft-serve vanilla cone — is that the ice-cream man I hear?"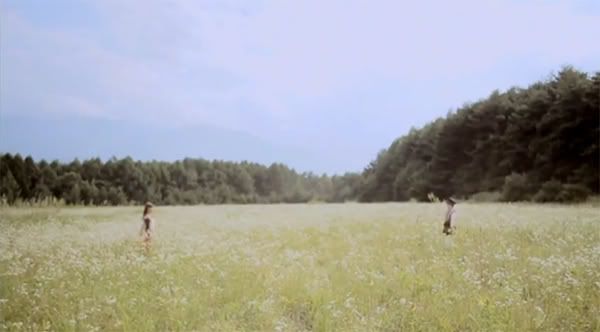 Girl: "Vanilla soft-serve, here I — you're not the ice-cream man!"
Boy: "…you're not a cow, are you?"
Girl: "Ass."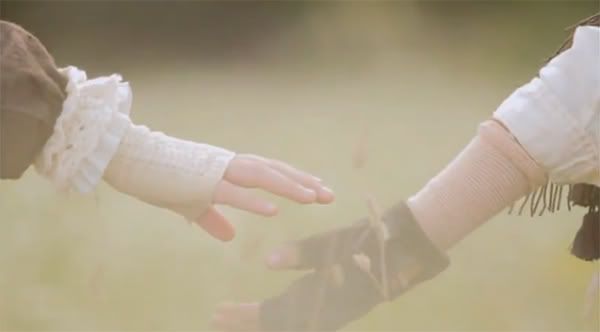 Boy: "Wanna come home with me anyway? I've got an awesome Beyblade collection."
Girl: "…not much of a ladies man, are you? Oh whatever, maybe you can help…"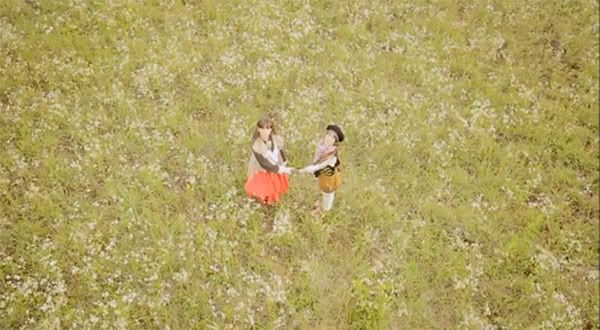 Girl: "So…Have you seen any camera crews or Japanese ladies standing around miming? I'm supposed to be shooting a music video…Maybe cameras up there? I heard they were doing aerial shots…"
Boy: Thank you, God, in all my 12 years of living I never thought a girl would talk to me let alone let me hold her hand — "Did you say something?"

Girl: "Okay, never mind. Do you at least know some place where there's food? All I've got are these berries…"
Boy: "Ooh, gimme!"

Girl: "No way, that's my lunch!" *flees*
Boy: "Wait, come back, new friend, we're not done with our childish frolicking!"
And that is the end of the most plot-heavy Kalafina PV ever made.

Keiko: "Is that it? We're done? All we did was just stand around and sing again. They said this PV would have a story…"
Hikaru: "Actually, I have a strong feeling that something else is happening and the crew isn't telling us…"
Keiko: "…Please don't tell me we're putting random people in the PV, what happened to the tradition of giving me the most screentime?"
Wakana: "…whale sharks, megamouth sharks, lalala~"
All right, on to the serious stuff now.
This wasn't really much more exciting than the average Kalafina PV. Sure, we did kind of had a plot (one I so brilliantly summarized above, if you hadn't noticed). But the ladies still aren't doing much more than miming and waving their arms. What I really wanted was to see them do more moving around, maybe even try to act a little bit.
But it still wasn't a bad PV. The cinematography was great, and really made use of the gorgeous setting. The pacing matched that of the song well, but that's the least I would expect. Lovely costumes too.
Okay, I had less to say than I thought. Maybe when I do the album review…